The 25 Most Influential Women in the Post-Apostolic Church
Return to http://www.sundayschoolcourses.com/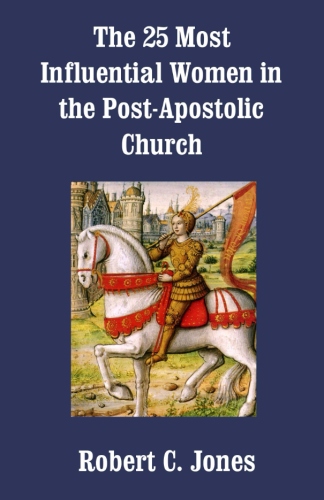 Written by Robert Jones Acworth, Georgia
Copyright 2013 Robert C. Jones
---
Would you like to teach this course?
$30.00 - You can purchase a Teacher's Pack, containing:
A PowerPoint presentation outlining high points in the course

A 2-3 page Instructor's Guide, containing potential pitfalls in teaching the materials, and listing possible discussion questions
To purchase the Teacher's Pack ($30) online:
Note: You do not need to have a PayPal account to use the "Buy Now" button above.
To purchase the Teacher's Pack by mail (USPS), send a check or money order for $30 to:
Robert Jones
POB 1775
Kennesaw, GA 30156
---
Special sale: Order the 10-pack below, and receive the accompanying PowerPoint for this course for free
Ordering the accompanying book
The accompanying book The 25 Most Influential Women in the Post-Apostolic Church is now available. To order individual copies, click here.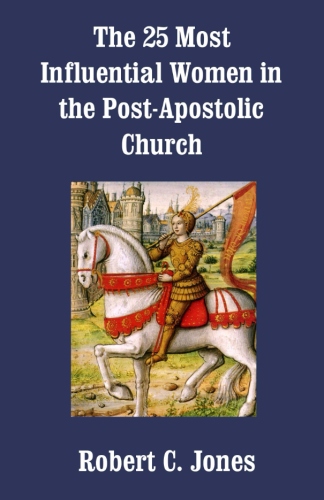 To order in bulk (packs of ten books - $100.00), click below:
---
Topics in this course:
| | |
| --- | --- |
| Name | Role |
| Mother Teresa (#1) | Founder and Superior General of the Missionaries of Charity; Noble Peace Prize winner |
| Catherine of Siena (#2) | Doctor of the Church;mystic, author, reformer, Papal ambassador |
| Saint Teresa of Avila (#3) | Doctor of the Church; Christian mystic, author, and the founder of a number of monasteries and convents |
| St. Clare of Assisi (#4) | Founder of the Poor Clares |
| Queen Elizabeth I (#5) | Savior of Protestantism in England; defeated the Spanish Armada |
| Aimee Semple McPherson (#6) | Made Pentecostalism a worldwide phenomenon |
| St. Bridget of Sweden (#7) | Founded the Brigittines, author, church reformer |
| Frances Jane Crosby (#8) | Wrote over 8,000 hymns |
| St. Brigid of Ireland (#9) | Founded Convent of Kildare, may have had the power of a bishop; "Patroness of Ireland" |
| Joan of Arc (#10) | "Maid of Orleans"; helped decide the 100 Years War in the favor of France |
| Harriet Beecher Stowe (#11) | Author of Uncle Tom's Cabin |
| Anne Hutchinson (#12) | Expelled from the Massachusetts Bay Colony for publicly disagreeing with the settlement elders |
| Phoebe Palmer (#13) | "Mother of the holiness movement" |
| Saint Thérèse of Lisieux (#14) | Doctor of the Church; author of autobiography The Story of a Soul |
| Hilda of Whitby (#15) | Founded Whitby Abbey in England; in 663, hosted the Synod of Whitby |
| Heloise (#16) | Scholar, writer, and prioress; had a love affair with Peter Abélard |
| Hildegard of Bingen (#17) | Doctor of the Church; writer, composer, Christian mystic, Benedictine abbess |
| Mother Ann Lee (#18) | Founder of the Shakers |
| Catherine Mumford Booth (#19) | "Mother of The Salvation Army" |
| Margaret Fell (#20) | Mother of Quakerism |
| Saint Scholastica (#21) | Established first Benedictine convent |
| Elizabeth Ann Seton (#22) | Founded first free Catholic school in America, which later became the Catholic parochial school system |
| Margaretha Sattler (#23) | Co-founder of the Anabaptists |
| Clotilde (#24) | Helped convert France to Christianity; builder of churches and monasteries |
| Saint Perpetua (#25) | Third century Christian martyr |